Monica Malcarne
Global Director R&D Labs Sample Management and Archive Services
Conseiller-e Comité NewBiz®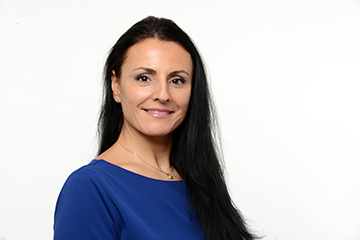 Monica Malcarne
Global Director R&D Labs Sample Management and Archive Services
Mrs. Monica Malcarne is currently the Site Lead for Covance Central Laboratory and Director of Sample & Archive Services, servicing all clinical trials for Central and Early Development laboratories based in the US and in Europe.
Responsibilities include Laboratory Pre/Post-Analytical Sample Management, BioRepository Services and Archive Services.
Mrs. Malcarne joined SciCor (now Covance) in 1995 as Investigator Services Administrator before moving to a Project Manager role, executing Study Design, Coordination and Management for key accounts.  In 2002 she moved into leadership roles starting with Team Manager in Geneva and Indianapolis where she relocated in 2004.
In 2006 she ensured the General Management of our operations in Shanghai, China and then in Zeist, the Netherlands were she transferred until end of 2007.
Relocating in Geneva in 2008 she accepted the role of Director of Global Laboratory Support Services before taking the role of Director of Global Sample Services.
As the Site Lead of the Geneva site, Mrs. Malcarne enabled opportunities and initiatives in a sustainable way while cultivating an inclusive approach, such as events for the employees by the employees in the sport, health and wellness areas, corporate social responsibility and communication.
Mrs. Malcarne holds a Master of Art degree in Social and Political Sciences from Lausanne University, Switzerland. Mrs. Malcarne lives in Nyon, Vaud, with her husband, Cédric.

Covance Central Laboratory Services SA in Geneva has over 650 employees and makes up an integral part of Covance Drug Development, a Laboratory Corporation of America® Holdings company. LabCorp is the world's leading health care diagnostics company, providing comprehensive clinical laboratory services through LabCorp Diagnostics, and end-to-end drug development support through Covance Drug Development. With combined revenue in excess of $8 billion in 2013 and more than 48,000 employees in over 60 countries, LabCorp companies offer innovative solutions to healthcare stakeholders. LabCorp clients include physicians, patients and consumers, biopharmaceutical companies, government agencies, managed care organizations, hospitals, and clinical labs.
Covance Drug Development is the world's most comprehensive drug development company and a leader in nutritional analysis, is dedicated to advancing healthcare and delivering Solutions Made Real.